Have you ever been puzzled or disturbed by the behavior of a family member, friend, or coworker and found yourself wondering, "What's going on?..." In Controlling People, bestselling author Patricia Evans tackles the "controlling personality" and reveals how and why these people try to run other people's lives. Can the pattern, or "spell", be broken? Yes! says the author. Softcover, 300 pages. $14.95 + P & H.

Samuel Shoemaker was an influential pastor and writer who greatly benefited the 12-Step movement at its beginnings through the Oxford groups. Courage to Change compiles his thoughts and teachings and shows the Christian roots of the 12-Step movement.Softcover, 223 pp., $13.95 + P & H. New Edition

Daily Readings in Catholic Classics Drawing on the writings of thirty-four famous Catholic authors, this book ranges from the thoughts of Doctors of the Church like Saint Augustine, Saint Teresa of Avila and Saint Thomas Aquinas, to classic authors like Saint Francis de Sales, Thomas a Kempis, and Saint Bernard of Clairvaux, to popular 20th century spiritual guides like Bishop Fulton Sheen, Thomas Merton and Romano Guardini and, finally, the writings of a group of famous modern converts like G. K. Chesterton, Hilaire Belloc, Ronald Knox and John Henry Newman. Soft Cover, 360 pgs, $19.95 + P & H.

Deliverance from pornography is possible and these true stories prove it. The pious man whose fairytale marriage was almost destroyed by his fierce addiction; The young woman who escaped a broken and abusive childhood only to become ensnared in porn's seamy underworld; The couple who tried everything to beat the pain and shame of porn in their home; The female musician who thought porn was a guy thing until she got hooked herself; and five other inspiring tales of liberation from the ravages of pornography. Delivered is proof that no one is beyond the reach of God's healing grace. Edited by Matt Fradd. $19.95 + P & H.

Detaching with Love: Principles of the Spiritual Life. In this series of five, one-hour lectures, Fr. Emmerich presents the principles of the spiritual life, addressing the nature of true detachment, self-righteous behavior, the necessity of self-knowledge, the role of the passions, problems of purity, and the need for appropriate boundaries. Realizing that inner peace is a gift from the Risen Lord: "Peace is my farewell gift to you", Fr. addresses the reasons why we seldom find the peace of Christ dwelling in our hearts. We make the mistake of looking to the world - how others behave, treat us, or what they think about us - as the source of our serenity. In this series we learn us to "detach with love." The series comes on 5 CDs for $35.00 + P & H.

To unlock the secrets of Satan's methods and devise a sure way to oppose them, Fr. Gerald Vann spent years studying the Gospel accounts of the temptation of Christ. This book, The Devil and How to Resist Him is the fruit of his labor. Paperback, 166 pp., $18.95 + P & H.

Beautifully printed on glossy paper, the Dominican Mission Manual was composed by the Friars of the Western Province to assist Christians in making a good retreat or parish mission. It contains beautiful prayers and thorough instructions on making a sincere confession, with a good examination of conscience. Paperback, 103 pp., $6.00 + P & H.

Anxiety disorders are some of the most common types of mental health problems among adults. Problems can range from mild anxiety and simple phobias to panic attacks and agoraphobia. This book, Embracing the Fear: Learning to Manage Anxiety & Panic Attacks, includes personal recovery stories and exercises that focus on managing our anxiety and changing the way we think and act. Softcover, 149 pp., $12.95 + P & H.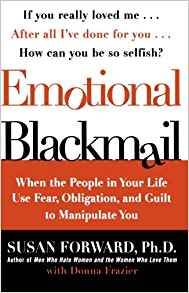 "If you really loved me..." "After all I've done for you..." "How can you be so selfish..." Do any of the above sound familiar? They're all examples of emotional blackmail, a powerful form of manipulation in which people close to us threaten to punish us for not doing what they want. Paperback, $15.99 + P & H.

The Enabler Do you confuse being needed with being loved? Do you relate to others by taking care of them? Then you may be an enabler. The enabler protects others from the consequences of their actions. But by always taking responsibility for those around them, enablers hurt the very people they love most. This sensitive and insightful book, written by a recovered enabler, shows how enabling relationships can be transformed into healthy ones. Softcover, 110 pp, $12.95 + P & H.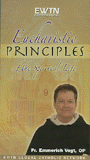 Eucharistic Principles of the Spiritual Life a step-by-step program Fr. Emmerich developed from his own experiences to help those who want to deepen their prayer life and personal sanctity. 6 episodes, 30 minutes each, on one DVD. $25.00 + P & H.

Fire Within is a thorough treatment of the spiritual life of prayer. Fr. Dubay explicates biblical teaching on prayer and the spiritual life and relates it to the teaching of the great Carmelite mystics. A wonderful spiritual reading book that cogently explains the life of prayer for the Christian of today. Sewn Softcover, 358 pp., $17.95 + P & H.

From the Angel's Blackboard: The Best of Fulton J. Sheen. This Classic but out of print book by Ligouri Press contains timeless truths and spiritual wisdom from the bishop who touched the lives of millions. Softcover, 245 pp., $14.95 + P & H.

From Binge to Blackout Considered a rite of passage, teenage drinking has skyrocketed to epidemic proportions. This book, written from the viewpoints of both mother and son, is a riveting, enlightening, and heartbreakingly true story of a family confronting the fear, pain, and denial that threatened to destroy them. Paperback, 410 pages, $15.00 + P & H.

Good News About Sex and Marriage: Answers to Your Honest Questions about Catholic Teaching. Christopher West's book taps into the desire we all have for deep spirituality and an integrated life. He draws upon his own remarkable life experience and his theological training to shape answers to the most sublime and some of the most gritty questions spouses are likely to have. Those who adopt the principles of the book will have much happier marriages. Paperback, 191 pp., $11.95 + P & H.

Growing Up Again: Parenting Ourselves, Parenting Our Children offers guidance on providing children with the structure and nurturing that are so critical to their healthy development-and to our own. It also addresses the special demands of adopted children and blended families, the character of prenatal life, and the growing problem of over indulgence. Softcover, 310pp, $16.95 + P & H.

The Harder They Fall
Celebrities tell their real-life stories of addiction and recovery. Gary Stromberg and Jane Merrill profile musicians, writers, actors, athletes, and politicians who all found a way to climb out from the devastation of addiction to reclaim their lives of extraordinary accomplishment. Hardcover, 329 pp., $21.95 + P & H.

The Heart of Virtue takes lessons from the lives of real individuals to illustrate the beauty and value of moral character. It brings to life in an inspirational way what is at the core of every true moral virtue, namely, love. It presents twenty-eight different virtues and reveals, through stories that personify these virtues, how love is expressed. Softcover, 231pp, $14.95 + P & H. What the unaffirmed person needs is affirmation therapy, which involves the healing of the whole person--body, mind and spirit. Recognizing emotional deprivation disorder is the first step in correcting, through affirmation, many grave individual and global ills. Authentic affirmation brings about peace, self-confidence and joy.

He Leadeth Me
Captured by the Russian army during World War II and convicted of being a "Vatican Spy", American Jesuit Father Walter J. Ciszek spent some 23 agonizing years in Soviet prisons and the labor camps of Siberia. He Leadeth Me is a book to inspire all Christians to greater faith and trust in God - even in their darkest hour. Softcover, 202 pp., $14.95.


Impossible Joy
Impossible Joy chronicles the author's journey through sex addiction and 23 years of 12 Step recovery. What emerges is a real Jesus for "For Sinners Only," a new view of the humanity of the Son of man put in practical terms, promising not only sobriety but joyous recovery and freedom. Softcover, 269 pp., $15.95 + P & H.

The Language of Letting Go, Melodie Beattie has created a reflection book for co-dependents. Here are reflections that nurture spiritual and emotional health, serenity, and recovery. Focusing on self-esteem and acceptance, these daily reflections give voice to the thoughts and feelings common to men and women in recovery. They encourage fruitful reflection on problem-solving and detachment. Paper, 391 pp., $16.95 + P & H.

The Life of Prayer This retreat consists of conferences and homilies given at Casa Maria Retreat House, Birmingham, Alabama. Fr. Emmerich discusses how our prayer life must be grounded in Gospel living if it is to be legitimate and fruitful. He then discusses the various stages of spiritual growth in the life of prayer. 4-CDs for $30.00 + P & H.
A Mother's Rule of Life On January 1, 2000, Holly Pierlot pounded her fist on the kitchen table and yelled at her husband, "I can't take it anymore!" Today, everything's better. Holly still home schools, but the house is cleaner, she gets more done, and the kids are happier. There's less stress, less strife, and less housework. Holly's been healed of past wounds that troubled her soul and her marriage. Best of all, she spends at least an hour each day in prayer and time each evening with Philip. Paperback, 224 pp., $14.95 + P & H.

12 Step Review Pamphlet Series by the 12 Step Review: Detaching with Love, The Passions, Sexual Sobriety, Friendship in Christ, and our new pamphlets on the Steps: Step One through Step Twelve. $1.00 each + P & H.

Why Does God Allow us to Suffer? Father Morris peels back the layers of questions that arise when someone asks the question "why me?" He not only writes about how to understand and live with suffering, he also poses the toughest question to God: why do we suffer under a benevolent God? Father Morris delves into how to be healed from the spiritual, emotional, and even physical scars left behind by suffering. He offers six principles for living a free life, that is, a life free of the fear that God is not there for us. The Promise, Hardcover, $24.95 + P & H.

Recovery Continues (SA) This book contains twenty-four articles on various issues relating to recovery from sexual addiction, such as the connection between lust and resentment, lust and dependency, masturbation and sexual sobriety, self-awareness and sexual dreams, sobriety versus recovery, covetousness and idolatry, the anatomy of a look, etc. Paperback, $8.00 + P & H.

A wonderful gift given to us by the Lord is the "communion of saints"--The influence of our brothers and sisters in heaven who live with Jesus ever to make intercession for us. Its good to have friends in high places! These friends are the Saints--men, women, and children who have faced the same troubles and challenges that you face now. Befriend them. In Saints for Every Occasion by Thomas Craughwell you will meet 101 saints, each of whom triumphed over immense obstacles in their lives and stand ready to help you do the same. Hardcover, 412 pp., $19.95 + P & H.

Secret Diary of Elisabeth Leseur: The Woman Whose Goodness Changed Her Husband from Atheist to Priest This inspiring book gives you a splendid example of how to live as a Christian in a secular environment that can be indifferent or hostile to your Faith. "No spiritual writer has taught me more than this French housewife about the sanctifying power of the sacrament of marriage, especially those unions that for one reason or another might be labeled 'difficult.' A true spiritual sister of St. Thérèse of Lisieux, Elisabeth Leseur discovered and practiced her own 'Little Way' - a form of sacrificial love and asceticism uniquely suited to the domestic context." Robin Maas, John Paul II Institute for Studies on Marriage and Family. Paperback, 336 pp., $19.95 + P & H.

We have two offerings from Sexaholics Anonymous: SA's 12-Step Book (Softcover, 212 pp., $10.00) dealing with sexual addiction; Recovery Continues (Softcover, 95 pp., $8.00) which offers wonderful short essays on a variety of topics dealing with sexual addiction. Both + P & H.

S-Anon is an international fellowship of recovery for those affected by the sexual addiction of a spouse, relative or friend. It is based on the Twelve Steps of Alcoholics Anonymous and helps individuals who have felt hurt, ashamed, or embarrassed by someone else's sexual conduct. Paperback, 154 pp., $10.00 + P & H.

The Spirituality of the Twelve Steps Father Emmerich's lecture series given to a live audience. In this series Fr. Emmerich grounds the Twelve Steps in classical Christian spirituality, while giving examples from every day life. Nine, one-hour disks (the first in the series is a bit longer) in an attractive case $65.00 for CDs + P & H.

Sister Ignatia: Angel of Alcoholics Anonymous is the true story of a Sister of Charity of St. Augustine who, driven by a strong need for perfection and unable to recognize her deep fear of failure, eventually had a total physical and mental breakdown. After her own recovery, she began to help the founders of AA with treating alcoholics. A wonderful, inspiring, and true story that gives insights into the beginnings of the 12-step movement. Softcover, 300 pp., $18.95 + P & H.

The Temperament God Gave Your Spouse by Art & Laraine Bennett. All of us are born with distinct personality traits. Some of us live for crowds and parties; others seek solitude and time for quiet reflection. Some of us are naturally pushy, while others are content just to get along. We don't pick and choose these traits; they're just part of the way we're made. Here veteran Catholic counselor Art Bennett and his wife Laraine provide an accessible synthesis of classical wisdom, modern counseling science, and Catholic spirituality: a rich understanding of the temperaments and what they mean for you and for your family. Paperback, 228 pp, $17.95 + P & H.

Toxic Parents: Overcoming Their Hurtful Legacy and Reclaiming Your Life Are you the child of toxic parents? When you were a child...
Did your parents tell you you were bad or worthless?
Did your parents use physical pain to discipline you?
Did you have to take care of your parents because of their problems?
Were you often frightened of your parents?
Did your parents do anything to you that had to be kept secret?
Paperback, $15.99 + P & H.

The Twelve Steps for Christians is a powerful resource for merging the practical wisdom of the Twelve Steps with the spiritual truths of the Bible. This combination of recovery and spirituality offers Christians an effective way to work a traditional Twelve Step program in light of the Gospel. Softcover, 239 pp., $9.95 + P & H. The companion work book (The Twelve Steps: A Spiritual Journey) offers the same text, but in workbook format with questions.

The Twelve Steps: A Spiritual Journey presents the same material as the book The Twelve Steps for Christians but does so in a workbook format, with questions for individuals to work on at their own pace or in groups with others. It is a working guide for healing damaged emotions, with the aid of Biblical passages. The book is printed in a large format (8 1/2 by 11), Softcover, 259 pp., $18.95 + P & H.

Almost everyone has heard of or knows someone who is part of a verbally abusive relationship - if they're not in one themselves. In The Verbally Abusive Relationship, you'll find validation and understanding and encouragement for your efforts to change the situation. Expanded 3rd edition. Softcover, 221 pp., $15.95 + P & H.

Way to Inner Peace Rich in psychology and richer yet in New Testament spirituality, Archbishop Sheen's Way to Inner Peace provides an invaluable guide to all those who, for whatever purpose, are seeking the way to inner peace inner happiness.Paperback, $7.95 each + P & H.

A recent study indicated that 38% of the women interviewed had been sexually abused by an adult or family member by the age of 18. You may think you don't know anyone who has been sexually abused, especially if most of your friends and acquaintances are Christians. But the statistics indicate otherwise: Sexual abuse knows no religious or social boundaries. The Wounded Heart: Hope for Adult Victims of Childhood Sexual Abuse is an intensely personal and specific look at this most "soul deadening" form of abuse. Personal because it may be affecting you, your spouse, a close friend or neighbor, of someone you know well at church. And specific because it goes well beyond the general issues and solutions discussed in other books. Dr. Allender's book reaches deep into the wounded heart of someone you know, exploring the secret lament of the soul damaged by sexual abuse--and laying hold of the hope buried there by the One whose unstained image we all bear. Paperback, 301 pp., $16.95 + P & H.